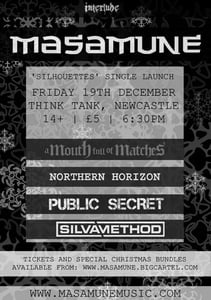 £

5.00
Masamune bring are back headlining the Think Tank? and bringing with them a bonanza of Christmas spirit.
Showcasing their recently recorded "Silhouettes" single, the Sunderland rockers are bringing a host of Christmas surprises to their show.
Manchester's own A Mouth Full Of Matches grace the stage after high profile appearances on Kerrang! and Scuzz, supporting their E.P. Smoke signals. This is available to download for free on their page.
"Northern Horizon are a 5 piece from Newcastle who specialise in getting an audience going. The average show will consist of some beautifully made upbeat soon to be anthems, Robbie williams (the bassist) and too many bad jokes..."offer their own unique brand of pop punk which is sure to make this Christmas show a belter.
Opening up this melody of local talent is Silva Method. make music that will reach down and touch your soul, make it tingle so the hairs on the back of your neck stand up and your feet throw down the best shapes known to them.
They blend catchy 80s influenced melodies with modern beats motivated with depth and heart drenched emotion.
Tickets WILL sell out fast so book in advance to avoid disappointment. Come celebrate Christmas in the only way possible - With heavy riffs and good music!